Original works & edition prints for sale
---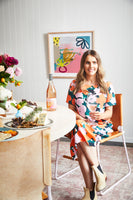 More About Morgan
Morgan Jamieson is an acclaimed regional Victorian Artist based in Ocean Grove. Living on the coast, she has a strong connection to her native surroundings which continues to inspire her practice.
Art plays a defining role in Morgan's life, her relationships and interactions with people. Morgan has travelled extensively, visiting some of the world's most acclaimed galleries, drawing inspiration from some of history's greats.
Working intuitively, Morgan feels her highest self when experimenting with colour and texture. Her distinctive style conveys authenticity and an intense, and experimental use of colour and shape from nature's form. Morgan's obsession with the science of colour is evident in her work which is described as experimental, clashy and imperfect.
At the age of 16, Morgan was producing and selling art, going on to study and complete a Bachelor of Visual Arts - majoring in Graphic Design. She then worked as a Graphic Designer for 12 years before deciding to pursue her career as an Artist fulltime.